The soaring housing market is prompting more "bubble" fears in some corners, but economists say the housing market isn't getting overinflated: but it's just too much demand and too little supply.
"We have strong conviction that we are not experiencing a bubble in U.S. housing," Vishwanath Tirupattur, a Morgan Stanley strategist, wrote in a note to clients this week.
Lawrence Yun, chief economist of the National Association of Realtors®, agrees. He told Axios last month: "This is not a bubble. It is simply lack of supply."
Morgan Stanley points out that this isn't 2006. (more…)
The U.S. housing market needs nearly 4 million single-family homes to meet the nation's demand, according to a new analysis from Freddie Mac. The 3.8 million shortfall marks a 52% increase in the housing shortage since 2018.
"This is what you get when you underbuild for 10 years," says Sam Khater, Freddie Mac's chief economist. "We should have almost four million more housing units if we had kept up with demand the last few years."
Lawrence Yun, chief economist of the National Association of REALTORS®, has been among real estate economists leading the calls over the last few years for greater inventory and more homebuilding to meet demand. "We need to build more homes," Yun told NPR, adding that since the housing crisis more than a decade ago, homebuilders have been building too few homes.
The housing shortage mixed with strong buyer demand since the pandemic is prompting home prices to rise rapidly. The median existing-home price for all housing types in February was $313,000, up 15.8% compared to a year earlier, according to the National Association of REALTORS®.
As I read this New York Times article: Where have all the houses gone? my mind went to Yogi Berra's line of "it's deja vu all over again" as I checked my files and discovered that this will be my 5th article with this title – and the first was written in 2013.
Let's look at the what and the why.
First, the what. This chart shows that inventory has plummeted across the country: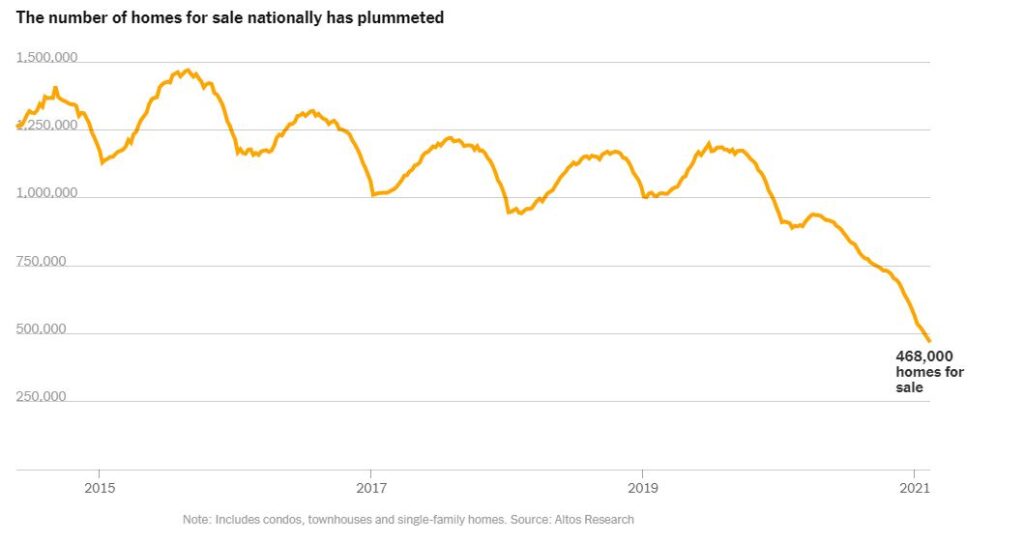 The why (more…)