North Naples June Housing Market Summary
The 3-month median price for Single Family Homes in North Naples – the area from Pine Ridge Road to the Lee County boundary just short of Bonita Beach Road (see map below) covering zipcodes 34109,34110 and 34119 – continued to rise sharply, reaching $749,000 for the April-June quarter, some 35% higher than a year ago, and breaking decisively upwards from the $500-550,000 range of the previous 5 years: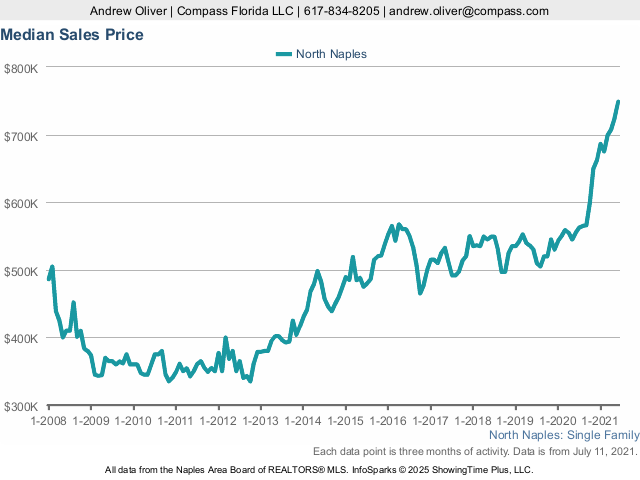 Dramatic price movements often occur when the number of sales is small, but that has not been the case in North Naples, which has seen a major increase:

The Condo market has seen a smaller, but still significant, increase of around 22% since last spring: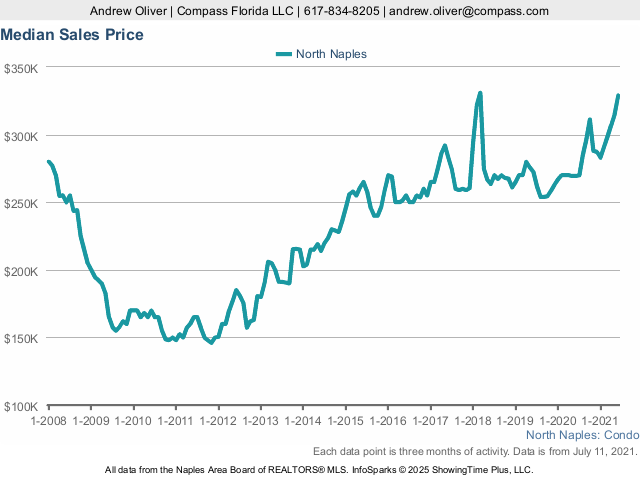 Sales have followed a similar path to that of SFHs:
&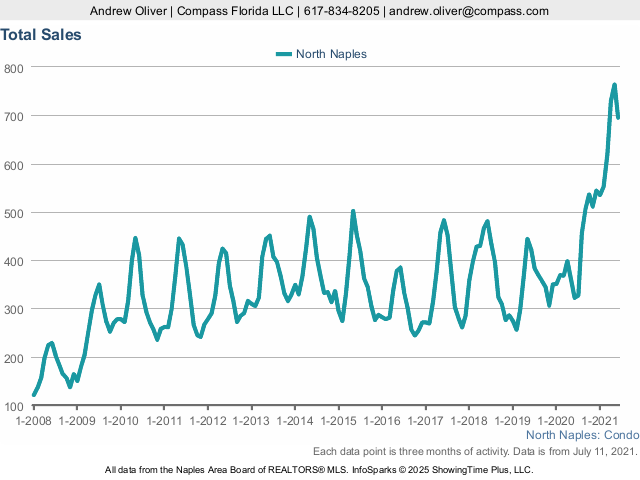 The number of sales did decline somewhat in June, but it is too early to tell if this is the usual seasonal pattern re-emerging after the COVID-inspired frenzy of the last year. It is worth remembering that visitors from Europe were totally absent in the last year, while the number of Canadian visitors also dropped. Visits from both groups are expected to recover as and when restrictions on travel are eased.
Naples rated No. 1 beach town to live in
Where are mortgage rates headed?
Naples market summary in June
Central Naples June Housing Market Summary
Naples Beach June Housing Market Summary
South Naples June Housing Market Summary
Andrew Oliver
REALTOR®| Market Analyst | DomainRealty.com
Naples, Bonita Springs and Fort Myers
Andrew.Oliver@DomainRealtySales.com
m. 617.834.8205
www.AndrewOliverRealtor.com
www.OliverReportsFL.com
_____________
Market Analyst | Team Harborside | teamharborside.com
Sagan Harborside Sotheby's International Realty
One Essex Street | Marblehead, MA 01945
www.OliverReportsMA.com
Andrew.Oliver@SothebysRealty.com
Sotheby's International Realty® is a registered trademark licensed to Sotheby's International Realty Affiliates LLC. Each Office Is Independently Owned and Operated
"If you're interested in Marblehead, you have to visit the blog of Mr. Andrew Oliver, author and curator of OliverReports.com. He's assembled the most comprehensive analysis of Essex County we know of with market data and trends going back decades. It's a great starting point for those looking in the towns of Marblehead, Salem, Beverly, Lynn and Swampscott."