Naples July Housing Market Summary
The 3-month median price for Single Family Homes in the overall Naples area continued to rise sharply reaching $610,000 for the May-July period quarter, some 37% higher than a year ago: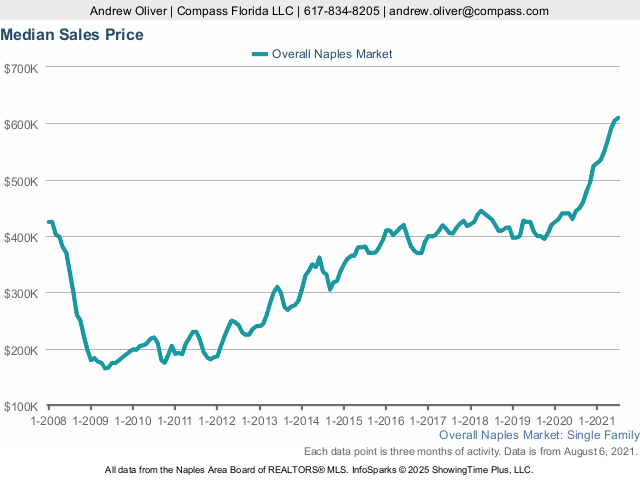 While sales are seeing the familiar summer decline, they are doing so from a high level: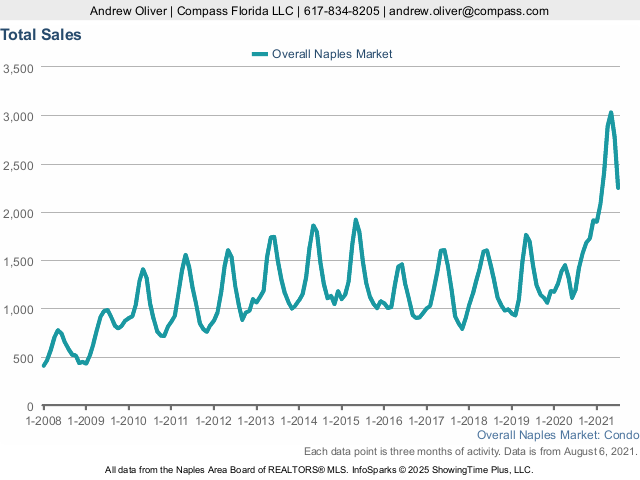 The Condo market has continued its strong upward movement, increasing  seen a smaller, but still significant, increase of around 25% to $337,250 since last spring: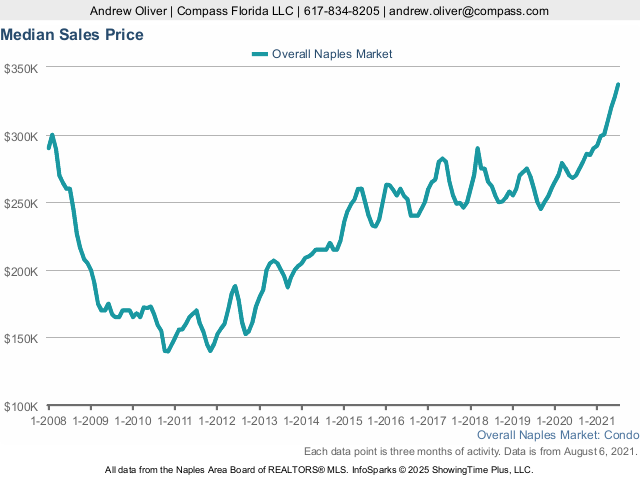 Sales have followed a similar path to that of SFHs: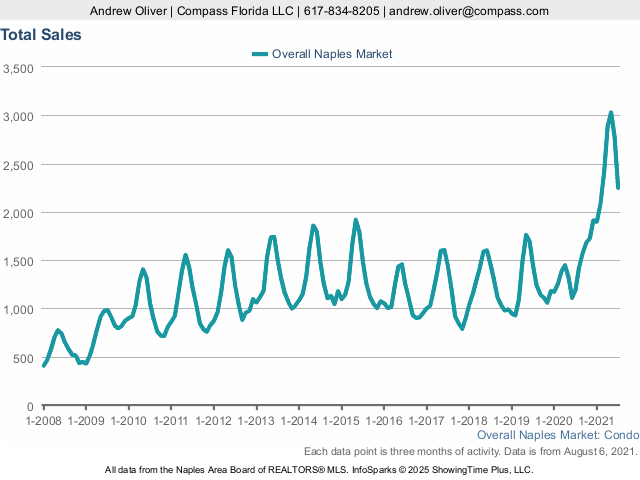 Comment
While Southwest Florida goes through the normal summer slowdown in sales, there is no sign of any such pause in median prices.
Read these area reports:
Bonita Springs July 2021 Housing Market Summary
Estero July 2021 Housing Market Summary
Fort Myers July 2021 Housing Market Summary
https://oliverreportsfl.com/?p=25085&preview=true Prediction: Lots of International Buyers Over the Next Year
Naples rated No. 1 beach town to live in
Where are mortgage rates headed?
Andrew Oliver
REALTOR®| Market Analyst | DomainRealty.com
Naples, Bonita Springs and Fort Myers
Andrew.Oliver@DomainRealtySales.com
m. 617.834.8205
www.AndrewOliverRealtor.com
www.OliverReportsFL.com
_____________
Market Analyst | Team Harborside | teamharborside.com
Sagan Harborside Sotheby's International Realty
One Essex Street | Marblehead, MA 01945
www.OliverReportsMA.com
Andrew.Oliver@SothebysRealty.com
Sotheby's International Realty® is a registered trademark licensed to Sotheby's International Realty Affiliates LLC. Each Office Is Independently Owned and Operated
"If you're interested in Marblehead, you have to visit the blog of Mr. Andrew Oliver, author and curator of OliverReports.com. He's assembled the most comprehensive analysis of Essex County we know of with market data and trends going back decades. It's a great starting point for those looking in the towns of Marblehead, Salem, Beverly, Lynn and Swampscott."