Mortgage refinancing just got cheaper
The Federal Housing Finance Agency (FHFA) announced that Fannie Mae and Freddie Mac will eliminate the Adverse Market Refinance Fee for loan deliveries effective August 1, 2021.
Lenders will no longer be required to pay Fannie and Freddie a 50-basis point fee when they deliver refinanced mortgages. The fee was designed to cover losses projected as a result of the COVID-19 pandemic. "The success of FHFA and Fannie and Freddie's COVID-19 policies reduced the impact of the pandemic and were effective enough to warrant an early conclusion of the Adverse Market Refinance Fee." FHFA's expectation is that those lenders who were charging borrowers the fee will pass cost savings back to borrowers.
"Santa Claus has come early for homeowners looking to refinance their mortgages," said Greg McBride, chief financial analyst for Bankrate.com. "The fee had often resulted in an increase of one-eighth percentage point in rate."
Another comment was: "The Federal Housing Finance Agency announced this just as fixed mortgage rates have fallen to their lowest levels since February. This is excellent timing, and you don't often salute a government agency for having good timing." And no, that comment did not come from a mortgage broker.
Meanwhile, mortgage rates remain steadily below 3%: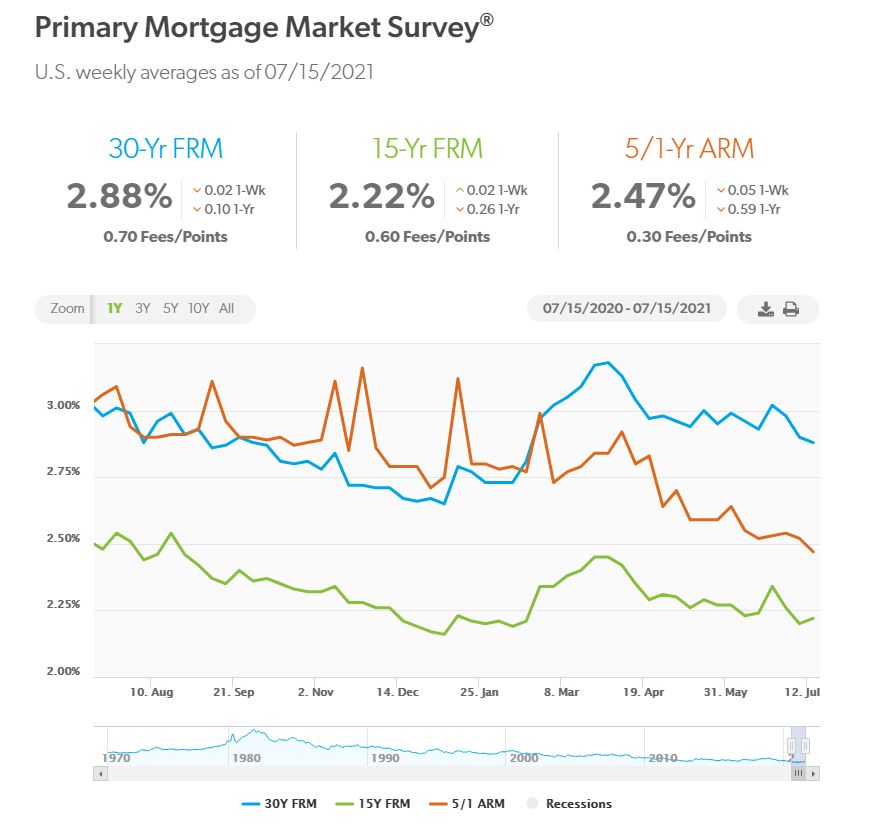 Freddie Mac
"Since their peak at 3.18% in April, mortgage rates have declined by thirty basis points," said Sam Khater, Freddie Mac's chief economist. "While this decline is not large, it provides modest relief to borrowers who are purchasing in a market with strong home appreciation and scant inventory."
Low mortgage rates, cheaper refinancing, and a huge shortage of homes for sale. While there is some sign that inventory is increasing in many parts of the country it is too early to tell if this reflects a slowdown in buying pressure as buyers take a summer break, or the start of a trend. Even if the latter, however, supply is so low that even a doubling of active inventory would still leave sellers in the driving seat.
Are mortgage rates heading up or down?
Naples market summary in June
Bonita Springs June Housing Market Summary
Fort Myers June Housing Market Summary
REALTOR® | Market Analyst | DomainRealty.com
Naples, Bonita Springs and Fort Myers
Andrew.Oliver@DomainRealtySales.com
m. 617.834.8205
www.AndrewOliverRealtor.com
www.OliverReportsFL.com
_____________
Market Analyst | Team Harborside | teamharborside.com
Sagan Harborside Sotheby's International Realty
One Essex Street | Marblehead, MA 01945
www.OliverReportsMA.com
Andrew.Oliver@SothebysRealty.com
Sotheby's International Realty® is a registered trademark licensed to Sotheby's International Realty Affiliates LLC. Each Office Is Independently Owned and Operated