Key takeaways: Single Family (SF) median price up 28% Year-to-Date (YTD) to $525,000 on 44% higher sales; YTD median Condo price YTD up 21.5% to $309,950 on 64% higher sales:
Please contact me to discuss the current market and see how I can help you in your search.
Naples August Housing Market Review
Prediction: Lots of International Buyers Over the Next Year
 Andrew Oliver
REALTOR®| Market Analyst | DomainRealty.com
Naples, Bonita Springs and Fort Myers
Andrew.Oliver@DomainRealtySales.com
m. 617.834.8205
www.AndrewOliverRealtor.com
www.OliverReportsFL.com
_____________
Market Analyst | Team Harborside | teamharborside.com
Sagan Harborside Sotheby's International Realty
One Essex Street | Marblehead, MA 01945
www.OliverReportsMA.com
Andrew.Oliver@SothebysRealty.com
Sotheby's International Realty® is a registered trademark licensed to Sotheby's International Realty Affiliates LLC. Each Office Is Independently Owned and Operated
The 3-month median price for Single Family Homes in Bonita Springs continued to rise sharply, reaching $531,000 for the April-June quarter, some 38% higher than a year ago, and breaking decisively upwards from the $400,000 level.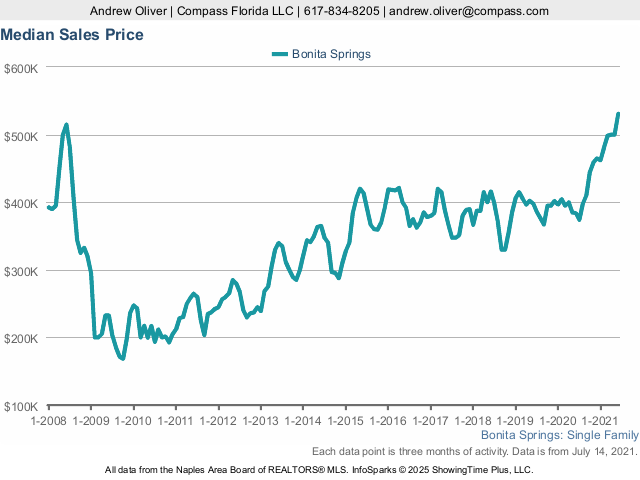 Dramatic price movements often occur when the number of sales is small, but that has not been the case in Bonita Springs, where sales have increased sharply over the last year:
(more…)